| By Bas S.
Santa Barbara was a daytime soap that not only stood out for its original storylines and campy characters, but also for its highly original soundtrack. Where other soaps generally use more generic mood pieces, Santa Barbara's music always seemed to bring the emotion within the scenes to a higher level. No other soap has its soundtrack discussed as much online as Santa Barbara. This can largely be attributed to the series' main composers, Dominic Messinger and Rick Rhodes, but also to songwriters like James Dunne, Liz Lachman, Roxanne Seeman and Billie Hughes, as well as the many talented musicians who contributed to the original score.
During its early years, however, Santa Barbara's musical team relied heavily on external music pieces. Sure, Joe Harnell had already composed the signature theme song, and Dominic Messinger was already on board, but most of the music consisted of licensed pieces. For the Channing murder case, many tracks were used from soundtrack albums by German new age band Tangerine Dream. One can easily visualize the re-enactment in the Capwell study when listening to Flash Final and Escaping from their soundtrack for the 1984 film Firestarter. Also, Kraftwerk's Metropolis played in many scenes starring Joe and Dominic.
Besides the new age artists, among which we must also mention Steve Roach, much of the early music came from so-called libraries of production music. These libraries offered LP's with low-budget musical pieces for usage in TV productions. However, one must not underestimate the quality of some of these LP's; there is a large online community of fans and collectors of these records. Much of the instrumental music used during Santa Barbara's first years can be found on library LP's by companies like KPM, Bruton, Themes International, Selected Sound and especially Capitol, whose Media Music line is now available on Ole Georg's website.
| Heyday (1987-1990)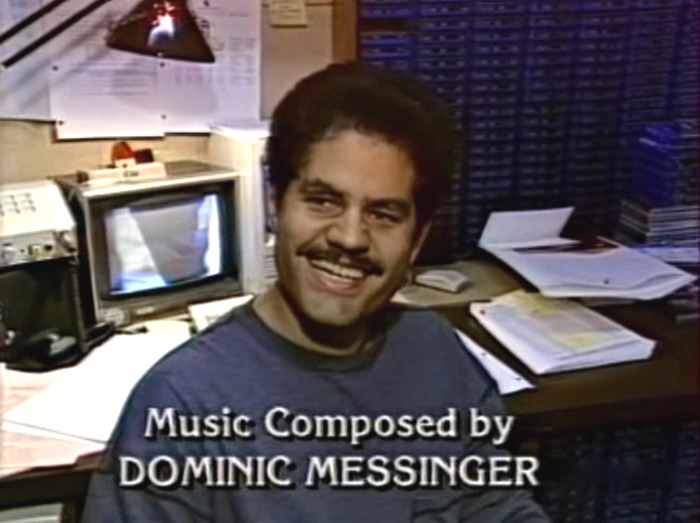 Over the course of 1985 and 1986, the show started using more and more original music. This really came to bloom during the 1987-1990 period. By then, Messinger and his team started composing score that was aimed specifically at certain storylines and characters. Scenes with the early villains, Peter, Marcello and Kirk, mainly had the same music. But already by late 1986, Keith's antics were captured in compositions that well-suited his sleaziness. The echoing sounds of Messinger's thematic pieces from 1987 boosted the empty and threatening atmosphere of the snow-covered Utah landscape, and the original music from the video rapist storyline sent shivers down your spine. We heard the siren's call during the Ondine and Las Sirenas flashbacks of 1989's Robert Barr story, and Derek's efforts to arouse feelings of revenge within his fellow orphans consisted of melodies of a dramatic sadness against a military march.
The music also became more thematic. There was a score with the same recurring theme, but with different moods, for scenes with Cain and Elena. The 1989 love triangle of Scott, Heather and Celeste had very original music, as did the scenes shot in Paris during the conclusion of the Adriana storyline, and these works later became recurring themes for Ric. And the same melody returned in most of the mysterious and sensual Flame tracks.
Of course, music from certain storylines was reused during later storylines. The droning suspense themes of the Laser Palace in 1987 were also very useful for the mysteries surrounding the El Diablo mine in 1989. And who would have thought that Mark McCormick would share the same music with his fellow rapist Dash Nichols?
With the characters and storylines, some of the campiness also appeared in the music. For Cruz's 1987 escape during Mason and Victoria's wedding, Dominic Messinger reworked a piece of Beethoven string music for the chase scene. And when Laura Asher really went wild in 1990, this was accompanied by a rather eerie rendition of the famous Flower Duet from the Lakmé opera by Léo Delibes.
| Later years (1991-1993)
Unfortunately, when the storylines became less emblematic, so did the music during the show's swan song period. The typical 80's touch of the earlier synthesizer themes disappeared, and the piano and acoustic guitar returned for more indistinguishable compositions. Of course, there were highlights. Eden's split personality, and the subsequent mourning over her "death", had a very strong soundtrack. There was wonderful music to grace Warren and Cassandra's impossible love story, and the Ballymoor sequences were rather funny. But by 1992, the show had mostly turned to more custom music, just like one could hear in other soaps.
From Peabo Bryson's If Ever You're In My Arms Again in the first episode, to Don't Say Goodbye in the last one, many fans remember the songs played on Santa Barbara. Just like the instrumental music, the early songs were already existing material. In 1985, James Patrick Dunne introduced The Change In Me, written specifically for Cruz and Eden, which has remained their signature song. Ron Boustead and Grant Saidiner wrote a couple of songs for Mason and Julia's early love story (Another Place, Another Time, Let's Slow Dance), while Cathy Hudrall contributed All My Life and Nothing Could Take Me Away From You for Cruz and Eden, and Listen To Your Heart for the mysterious arrival of Jeffrey Conrad. Staff composer Liz Lachman wrote the more sensual and mysterious songs, such as Lay You Down for Ted and Jane/Roxanne, Dangerous Kiss for Kelly and Dylan, Intimacy for Cain and Andrea and Keeper Of The Fire for Robert and Eden. And of course every fan remembers Welcome To The Edge by Roxanne Seeman and Billie Hughes, that was the key musical piece for the Robert-Kelly-Craig love triangle. Seeman and Hughes were further responsible for much sought-after tracks like Two World Apart and Turn It All Around (Julia and Michael), One Way (Robert) and I'll See You Again (Michael and Nikki), that were thankfully collected on the albums Welcome To The Edge and Songs From Santa Barbara, both available on iTunes.
And one can hardly count the songs of which Cliff Downes was one of the writers. From Jake and Hayley's My Imagination and Scott and Heather's Listen to Cruz and Eden's Don't Leave Love and the more upbeat Partners in Crime... all were co-written by Dominic Messinger's musical partner.
But also the licensed material proved very effective. Gino Vanelli's Total Stranger seemed written specifically for Dylan's lush lifestyle, while Dan Hill's' Never Thought That I Could Love was typical for Mason and Julia's early scenes as a couple in 1988, as was Back To Avalon by Kenny Loggins for their reunion in 1989. And what song could better illustrate the history of CC and Sophia than My Favorite Year by Michael Feinstein?
| Restaurant & party music
Largely overlooked, the background music during scenes situated in restaurants and bars was sometimes just as effective as the other musical pieces. Santa Barbara's wining and dining music has known several phases during its existence, mostly because of the several establishments that have appeared in the show over the years.
It was during the first scene of Santa Barbara, CC's party in honor of Channing Junior, that we heard Eye Of The Hurricane by Joe Sample. Sample's music kept returning in later restaurant scenes, as did that of other jazz musicians like John Klemmer, Lee Ritenour and Bob James. The State Street bistro and the Beach bar played many of the contemporary hits of the time.
But the licensing costs were probably out of proportion, and the show resorted to original and library music for the scenes in the Orient Express and Buzz's Place/Johnny's Place. It is probably rather extraordinary that much of this music was written specifically for the show by Rick Rhodes and Marc Greene. Most of it is unavailable to the fans, but some of the compositions were reworked for the Nature's Harmony CD series. Michael Licari was responsible for several original jazz/fusion pieces, which were later collected on his 1990 album Daydreaming (which also has some well-known dramatic music from Santa Barbara). Scot Scheer's music was also omnipresent, with several tracks available on his LP's High Rise and Night Heat.
With the arrival of The Lair in 1987, she show returned to original songs. Not the hits like before, but more underground singles like Desire by Centron and Adventure by Eleanor Academia, as well as songs that came from soundtracks, such as Better Late Than Never by the Cover Girls. Craig Stull sang original tracks like Ground Rules and Look Before You Leap, which are unfortunately unavailable, and we heard Ellis Hall sing I Found Myself In You. The Lair also played more compositions by Liz Lachman (What A Lover) and Billie Hughes/Roxanne Seeman (Walls Of Love), and many songs that are yet to be identified.
The jazz musicians returned with the introduction of the Country-club in 1988, and the Pacific Bay polo club in 1990. From then on, many tracks were played by fusion musicians like Richard Elliot, Dave Koz, Gregg Karukas, Brian Bromberg and Alphonse Mouzon. One must note that Elliot, Koz and Karukas are also credited with several Santa Barbara cues on their ASCAP and BMI records, so they were also directly affiliated to the show. In the Oasis, Santa Barbara eventually turned to piano music, of which the origin is still not known.
Finally, we should also mention the rather stereotypical Mexican and Hawaiian music, which played during the scenes abroad.
Although highly praised, Santa Barbara always had problems with the licensing of its music for broadcastings abroad. In 2007, there even was a large lawsuit by many of the composers of licensed music against NBC/New World Television.
These problems were already evident in the international broadcasts in the 1990s. In Europe, we didn't hear Bryan Ferry's Slave To Love during Cruz and Eden's infamous cave sex scene of 1989, but Don't Leave Love, and Help Me Make It Through The Night by Gladys Knight and the Pips was replaced by the Messinger-Downs original Is It Too Late during the 1991 Alcatraz scenes.
The copyright problems apparently went this far, that in France the original music was completely replaced by new compositions by local artist Jean Renard from episode 770 onwards. Also, the theme song was completely different in this country: they used a song with French lyrics sung by Gilles Sinclair, based on the melody of Peabo Bryson's If Ever You're In My Arms Again.
In Germany, something otherwise remarkable happened. When RTL broadcasted the final episodes of California Clan, they had removed most of the original music and replaced it with... library music from the show's early episodes. Nothing could give a more striking contrast, since the general tone and cast had made such an astonishing transformation between 1984 and 1993.
| The search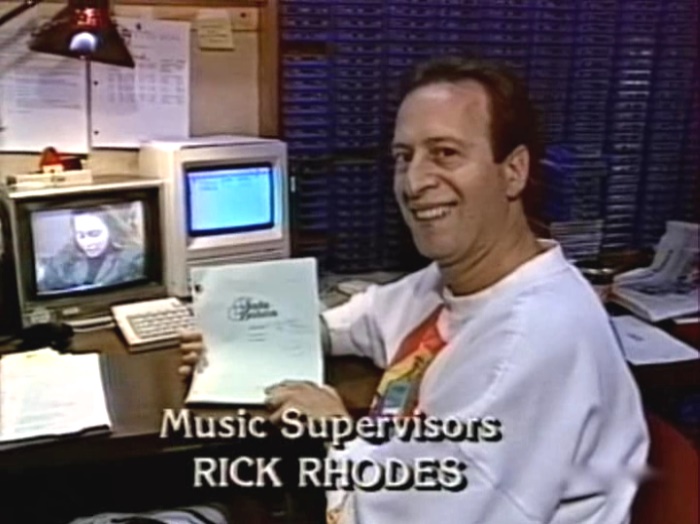 While watching Santa Barbara in Holland during the 1990s, I was instantly fascinated by the music. This went so far, that I started recording the show's scenes that featured music from the TV to my cassette player. This resulted in the several captures of instrumental music that you can find elsewhere on this website.
The arrival of the Internet in the late 90's really boosted my search. First, there was the song list on Jim Armstrong's Santa Barbara fansite. From there on, I came across several artists whose music was present on the show. Generally, when one track of a (soundtrack) album was used, others were as well. By coincidence, I came across the albums of Richard Elliot, whose music played during many party scenes. And from there on, I discovered more. Elliot also played the saxophone on other artists' albums, like the ones by Gregg Karukas and Alphonse Mouzon, and their music was also featured on the show. Bassist Brian Bromberg played on the Rick Rhodes album Deeper in the Night, and his solo music was also heard on Santa Barbara.
I have also googled intensively for composers of source music for the show. I found a great lot, and I have corresponded with several of them. I must specially thank Roxanne Seeman, Liz Lachman, Jeff Silverman, Sherban Cira, Justin Ezzi and all the others that took the time to answer me and supply me with their music, or at least the titles. I am especially grateful to the late Rick Rhodes, who faxed me an ancient and very helpful list of compositions, back in 2000.
The 2007 Class Settlement (as mentioned above) was a gift from God. I now had a list of most of the compositions used on Santa Barbara! Unfortunately, no composers or performers were mentioned. But through searches on the sites of copyright foundations like ASCAP and BMI, I managed to track down a great many of them, most of which I already knew as staff and contributing composers to Santa Barbara.
The list also introduced me to the world of production music libraries, since many of the titles on the list could be traced back to the site of Ole Georg Music, who maintains the former Capitol Media Music line. This eventually resulted in the recognition of tracks from Bruton and KPM library LP's , that were not featured on the list. The Tangerine Dream, Vangelis and Jean-Michel Jarre tracks were found through musical identification software like Tunatic, SoundCloud and Shazam. I also must give special credit to the members of the library music collector's message boards who managed to identify musical pieces or push me in the right direction, and the webmaster of CaliforniaClan.de, with whom I have corresponded a lot about the music during the early 2000s. Below is the result of the search until now... but hopefully there is more to come!
Bas S. (March 2016)